Buffalo's annual Homecoming Celebration usually takes place throughout the last weekend of September, or the first weekend of October. The event is a chance for Alumni of Buffalo Public Schools to return to Buffalo, reacquaint themselves with old friends and see some of the town's familiar sites.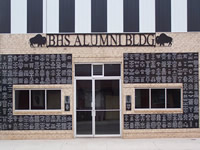 Festivities begin on Friday with the hospitality house at the Alumni building and an open house at the Buffalo Museum. In the evening a Chili and Stew Supper is sponsored by Bison Boosters and followed by the Homecoming Royalty presentation. The evening is capped off by the all important Homecoming Football game.
Saturday of Homecoming weekend is a hive of activity throughout the town. The annual alumni golf tournament is held at Doby Springs, and a buffet luncheon is offered at the Methodist Church. However, the centerpiece of Buffalo's Homecoming Celebration is the Homecoming Parade. The parade itself is a wonder to behold, providing a truly family occasion with an atmosphere that is second to none.
To view more about this year's Homecoming Celebration, click here.